January 13th, 2013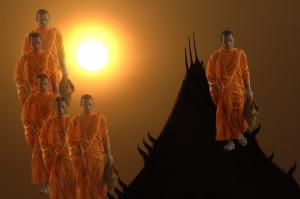 I thought this image of a Buddhist Monk and Temple (Wat) may be of interest. Yes, I used Photoshop on this image...no surprize I am sure.
I took the Temple (Wat) image along the Mighty Mekong River on a two day river journey from Laos to Northern Thailand. The Monk was taken in Cambodia at Ankor Wat. This image really speaks to me. The colorful Monk and the Silouette of the Temple with the setting sun work well together as a composition in my opinion. Each Monk is the same image duplicated several times. I altered the size and opacity of each Monk in Photoshop which is quite simple. The Temple and the Sun are one image which I used as the Background Layer in Photoshop. You can see the temple image without the Monks in my Laos Gallery on FAA if you wish. Other than that nothing is complicated about making this image.
I love the color and the way the Monk(s) seem to float above and beside the Temple as if they are on a journey...the Journey Seeking Enlightenment. The main tennant of the Buddhist Faith, as I understand it, is simply "Seeking Enlightenment" and hence the title of this image.
Although there is much to look at in this frame it still seems a light and simple composition...not cluttered although there are a few elements there. I think it appears uncluttered as there are only Monks, the Sun and a Silouetted Temple for the eye to track.